Welcome to pullOverAndLetMeOut.com
I have a passion for places that are slightly out of the ordinary. I seek to explore and describe some of the lesser-known locations we often drive by. From historical sites to romantic getaway destinations, to fruitful vineyards, wineries, and one-of-a-kind attractions; my philosophy is, the joy of traveling is in the journey! 
I love exploring locations throughout the southeastern U.S. and beyond and sharing my experiences so others can take my information and tips to plan their own adventures to those destinations.
Come along for the ride! If you see something you like, don't be afraid to say,  'Pull over and let me out.'
Traveling through Nelson County, Virginia we're road weary and need a break. Having driven close to six hours in the rain and with a couple …
The Strand Hotel in Myrtle Beach, South Carolina is an oceanfront boutique resort. The beachfront high rise formerly known as The Breakers Myrtle Beach is …
Have you ever seen a Ponysaurus?  These mythical creatures hadn't been seen in ages. That is until Ponysaurus Brewing appeared on the landscape in Durham, …
Introducing TravelingToGive™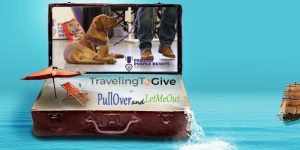 I am excited to announce that we are adding the TravelingToGive™ capability to our articles.  For every trip that you book through PullOverandLetMeOut.com, we will be donating to Paws for Purple Hearts.  It is our plan to provide this on all of the stories on our site, but that will take a little time.  So for now, check out our Most Popular category and also the new Passion for Ireland section and also Plan Your Own Trip, which you can use for travel to anywhere in the world, for any reason.  Please tag us on your photos and videos when you return from each trip. #pulloverandletmeout #travelingtogive